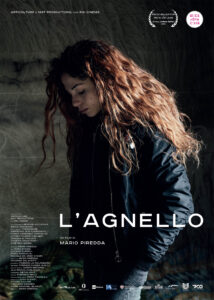 L'AGNELLO / THE LAMB (2019 – ITA/FRA, 94', feature)
by Mario Piredda, with NORA STASSI, LUCIANO CURRELI, PIERO MARCIALIS, MICHELE DR. DRER ATZORI.
Produced by Articolture, with MAT Productions and RAI Cinema; with Nora Stassi and Luciano Curreli; distribution: Articolture and Moderna Distribuzione; Sales Agent: TVCO.
With the contribution of REGIONE AUTONOMA della SARDEGNA
and the support of FONDAZIONE SARDEGNA FILM COMMISSION e CINETECA SARDA.
Premiered at Alice nella città official selection 2019 (Honorable Mention for Nora Stassi as best emerging talent). Winner of Annecy Cinéma Italien Festival 2020 (Best film, Young Jury Prize, Audience prize) and of Suso Cecchi D'Amico Award, dedicated to the Best Italian Screenplay with a female protagonist. Other selections: Moskow IFF, Prague IFF, Istambul IFF, Cinemed Montpellier, CPH Buster, Cinemagic UK, Denver IFF, Lucas International Children's Film Festival (…and more to come).
***
Anita is sixteen and she's facing a difficult situation: her mother died of leukemia and now Jacopo, her father, is also sick: his need for a bone-marrow transplant is increasingly urgent, but the average waiting period for a donor is many months. Anita isn't compatible, and neither is Tonino, her grandfather shepherd who lives in the nearby tableland, close to a military base which affects the area since the Sixties. There is uncle Gaetano: being Jacopo's brother the probability that he is compatible is higher, but Gaetano is a hothead and he and Jacopo haven't had any relationship at all: an old grudge, which they don't want to forget, is keeping them apart. Gaetano is unapproachable, but Anita's slightly crazy personality is somehow able to chip away at his armor, begin to patch up old wounds and convince him to take the tests that could possibly save Jacopo's life.
A bitter and poignant familiar saga, rooted in the most authentic Sardinia: that's the highly anticipated debut in feature films of the Italian director Mario Piredda.
The Lamb is a very grounded story, but like Anita – the young and rebellious main character –, it deals with some universal issues: the environmental costs of progress, the attachment to one's own roots and the right to health. Anita's voice becomes the scream of a whole community and a new generation, that fights to keep its world safe.
Mario Piredda loves to work with non-professional actors, save in exceptional circumstances. Nora Stassi, at her debut, is flanked with the experience of Luciano Curreli and Piero Marcialis. The cast considers also the presence of Michele Atzori, better known as Dr. Drer: a rapper from one of the most popular Sardinian crew.
This approach reflects Piredda's poetry to "free the actors of the artifice of acting, to load the scene of realism and authenticity", an intention that has already paid off in A casa mia, his multi-awarded short-movie.
Follow the journey on L' Agnello.
Check out this review!
---